In some areas where people live, black cats that are completely black in fur, are a rarity, and this factor adds to their mysterious trait. Also, in the night, a black cat can be practically invisible, so people in the darkness see just the two eyes of the cat, which can be a pale shade of green, orange, or yellow or be amber colored.
Many superstitious people were terrified, thinking an invisible creature or demon with 2 eyes or simply 2 floating, glowing eyes were staring at them in the dark. Black cats were the traditional and most common creatures that lived with witches even though witches had other animals around them, at times, as rats, dogs, ferrets, birds, frogs, toads, and hares. These small animals were often kept in pots or baskets lined with sheep's wool and fed various things including milk, bread, meat, and blood. Often, such animals would have the same affectionate nick names or common names that parents give their children.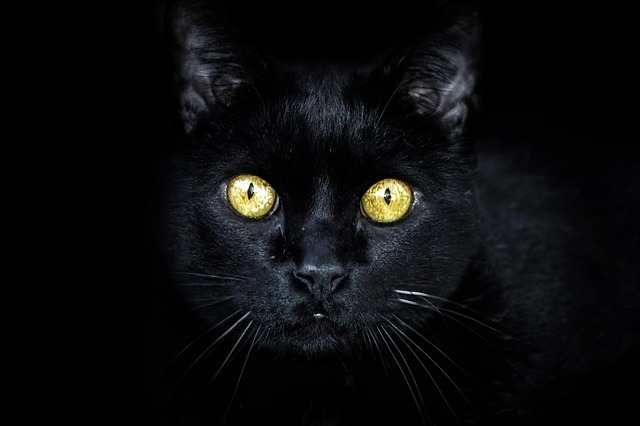 When a person, for example, an old lady, especially a person who lives alone, has, for example, a pet black cat; there are people who strangely talk to their pets as though they are human beings and can understand every word. Centuries ago, when belief in witchcraft was very strong, many people that saw and heard a person talking to an animal seriously wondered if the animal was a spirit or demon in animal form that attends and obeys its master- a witch. The occult name for such an animal is called a familiar. There are other reasons that can make people further wonder if a person is a witch; as that person being unnaturally mean; highly aggressive; hateful in personality, and if such a person were also very ugly, it would add to their resentment by others.
The American author, Edgar Allen Poe (1809-1849) wrote a short horror fiction story called "The Black Cat" that would reinforce the idea of a black cat having supernatural powers. In that story, a black cat gets its revenge against its owner who has abused it, then horribly mutilates it, and later kills it.Once, in the 1970's, there was an occult supplier who sold, among many other things, tall candles in the shape and color of a black cat. The sales pitch was that the black cat, being a symbol of bad luck, when burned in candle form would destroy that black cat image and this became a ritual for good luck.For many, many years, black cats have gotten a bad rap; a really unfair, undeserved reputation of being evil and harmful to humans. Some people, over the years, tried to undo; reverse this situation by claiming that black cats are actually good luck. In certain parts of Europe, for instance, black cats are looked upon as actually bringing good luck.
Some folks, centuries ago, thought that at times a witch's familiar or familiars was a person or people that , from the power of witchcraft, got turned into an animal or animals as punishment for somehow angering a witch.Black cats began to develop an association with evil in the minds of various people, centuries ago, from the extreme worry that any black cat there was could be a demon in disguise. Many people developed a great fear, distrust, and revulsion to all black cats and would chase them away, at times even throwing small objects as stones at the animals.Various people began to believe that the black cat, from its demonic significance, brought bad luck, especially if a black cat crosses your path.