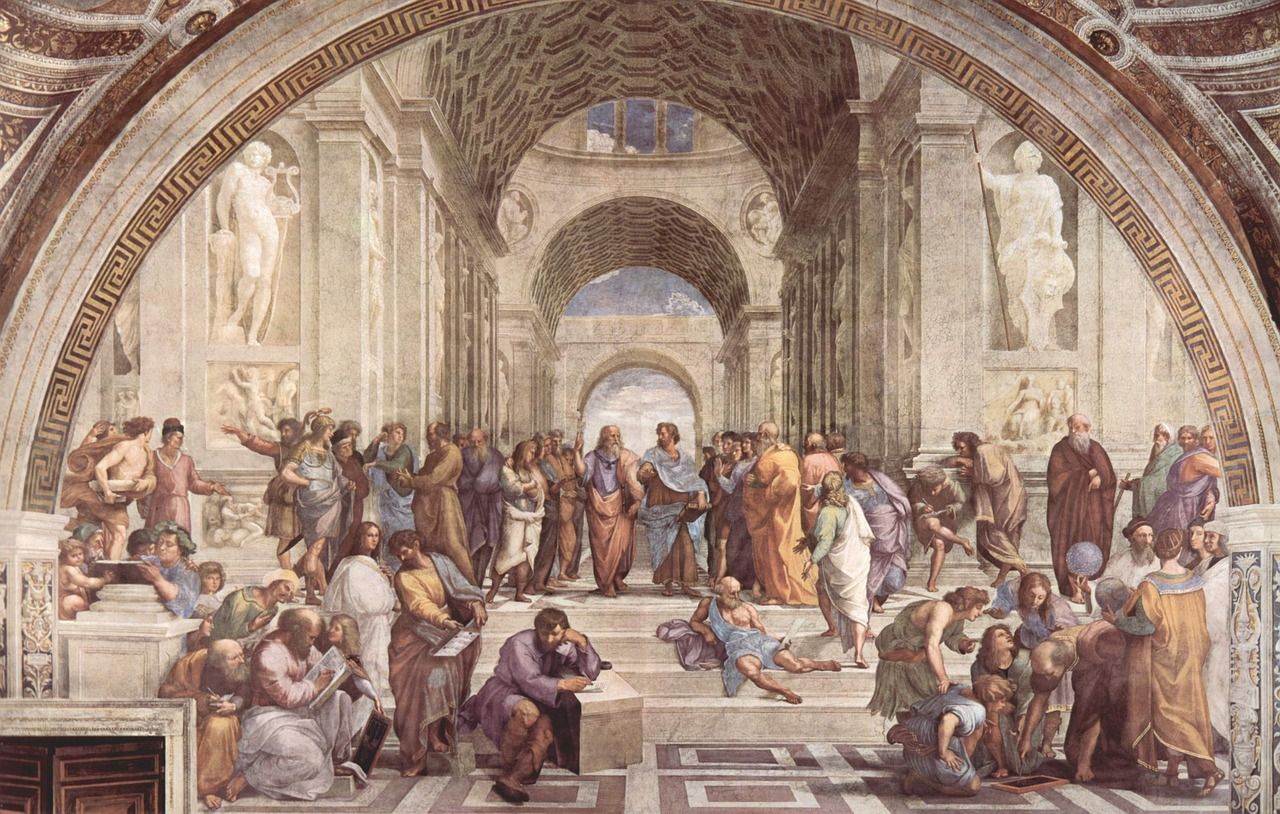 In the New Testament Bible of Christianity, after Jesus Christ was crucified; and was on the cross, then rose again from the dead (the resurrection), he appeared to his disciples, conversed with them, blessed them, then Jesus Christ ascended into Heaven. "And it came to pass, while he blessed them, he was parted from them, and carried up into heaven." (Luke 24:51). After coming into Heaven, Jesus Christ sat down at the right hand of God" after Jesus had "offered for all time one sacrifice for sins". (The Epistle to the Hebrews, Hebrews 10:12). 
When Jesus Christ, in the Biblical account, walked on water, across the  Jordan River, various people have regarded that miracle as a form of levitation. When his apostles saw him walking on water, at first they thought they were seeing a ghost or spirit, and they were terrified. After realizing who the walker is, the apostle Peter, after Jesus calls out to meet him, begins to also walk on water, but after Peter gets frightened by a strong wind, Peter begins to sink. Jesus happens to be right there and pulls up Peter; rescuing him into the boat and Jesus admonishes Peter for " being of little faith".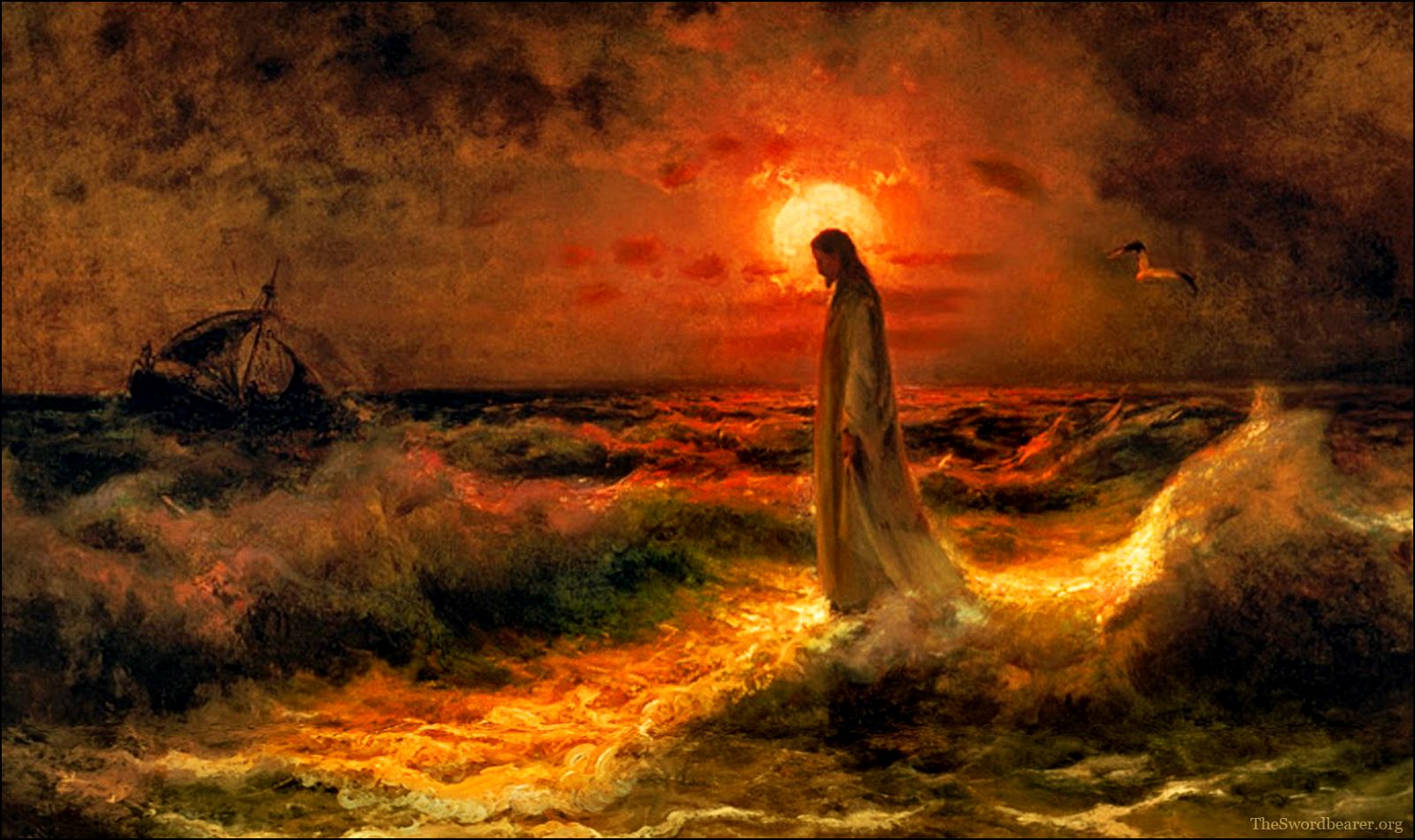 This miracle story is told in the gospels of Matthew, Mark, and John, but not in the gospel of Luke. (Matthew 14:22-33, Mark 6:45-56, and John 6:16-21), but only the incident of Peter is in the Matthew narrative. Many centuries later, in Christian legends, we shall discuss 6 famous Christian saints, that allegedly levitated; flew through the air, and then landed. These 6 Christian saints are only some the saints of Christianity that are credited with levitation; flying. Five are the Christian saints are Catholic, the last one mentioned belongs to Orthodox Christianity. The saints of flight are: Joseph of Cupertino, Pio of Pietrelcina, Frances of Assini, Alphonsus Liguori, Martin de Porres, and Saint John the Wonder Worker (who died in 1966). 
Saint Joseph of Cupertino was born on June 17, 1603 in Copertinus, Italy and died on September 18, 1663 in Osimo, Italy. He joined the Franciscan Friars Minor Conventual, and later became a priest in 1625. The saint is known for performing certain miracles, but the greatest miracle, accordingly, was the power of flight. He is also known for experiencing ecstatic spiritual visions. On July 16, 1767, Pope Clement XIII at Rome, Papal States, canonized Joseph of Cupertino. A major part of the canonization was based on reputed stories of over seventy eye witnesses who claimed to see this Joseph of Cupertino fly through the air.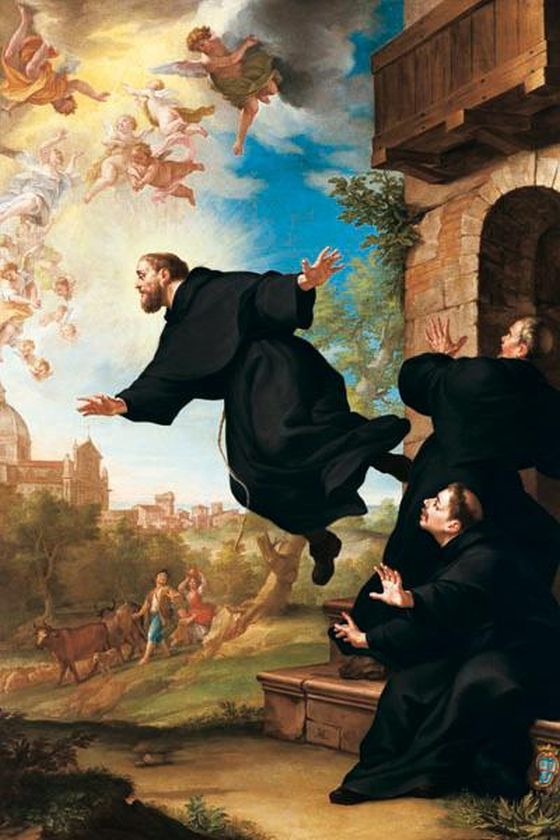 At Mass, he is said to have floated in the air while in great delight. Once, as Christmas carols were being sung, he allegedly flew up to the high altar, then knelt in the air, in rupturous prayer. This saint Joseph was beatified by Pope Benedict XIV of Rome, Papal States on Feb. 24, 1753. Saint Joseph of Cupertino is the patron saint of aviators. Pio of Pietrelcina (Padre Pio, Italian for "Father Pious") was born on May 27, 1887 and died on September 23, 1968. Full birth name: Francisco Forgione. Padre Pio became famous for the appearance of stigmata(the wounds of Jesus Christ) for most of his life.
There are skeptics who believe that Pio's stigmata were not genuine paranormal occurrences. Pio, the Italian friar, priest, and mystic was both beatified and canonized. He was beatified in 1999 and canonized in 2002 by Pope John Paul II of the Vatican. Padre Pio is said to be able to float in the air, fly around, and to practise bilocation (be in two different locations simultaneously). Frances of Assisi, the famous Italian saint, was born in 1181 or 1182 and died on October 3, 1226, is best known as being the founder of The Franciscan Order. Born as Giovanni di Pietro di Berhardpone la Singlas. Born in Assisi, Duchy of Spoleto, Italy, Holy Roman Empire. He was known for his love and kindness toward animals. The saint was also remembered for being the first recorded stigmataist in Christianity after Jesus Christ.
Saint Frances was able to fly through the air, according to various medieval sources. Saint Frances was canonized by Pope Gregory IX of Assisi, Papal States on July 16, 1228. Saint Alphonsus Liguori, sometimes called Alphonsus Martin de Liguori, was an Italian Catholic Bishop, religious writer, musician, artist, poet, lawyer, scholastic philosopher, and theologian. He was born on September 27, 1696 and died on August 1, 1787. When preaching at Foggio in Italy, Saint Alphonsus Liguori, is said to have lifted a small number of feet from the ground before the eyes of the whole congregation. The saint is also believed to have the power of bilocation.
He was beautified on September 15, 1816 by Pope Pius VII of Rome, Papal States and canonized by Pope Gregory XVI of Rome, Papal States on May 26, 1839. Another Christian Saint levitator was Martin de Porres Valazquez, O.P. ( born on December 9, 1579 and died on November 3, 1639), was a Preuvian monk of the Dominican Order who helped the poor, established an orphanage, and a children's hospital. Various miracles were attributed to this dark skinned, mixed black race and white race Catholic saint. Such miracles include healing people, understanding the so-called "speech of animals", levitation, and bilocation.
He was beautified by Pope Gregory XVI  of Rome, Papal States on October 29, 1837. And canonized by Pope John XXII of the Vatican on May 6, 1962. In Orthodox Christianity,  there were levitating saints, as well. One example is Saint John the Wonder Worker (1896-1966), who was said to levitate while praying by an observer who claimed to witness the miracle. There are female saints in Catholic Christianity that are said to have flown high in the air, and then landed.